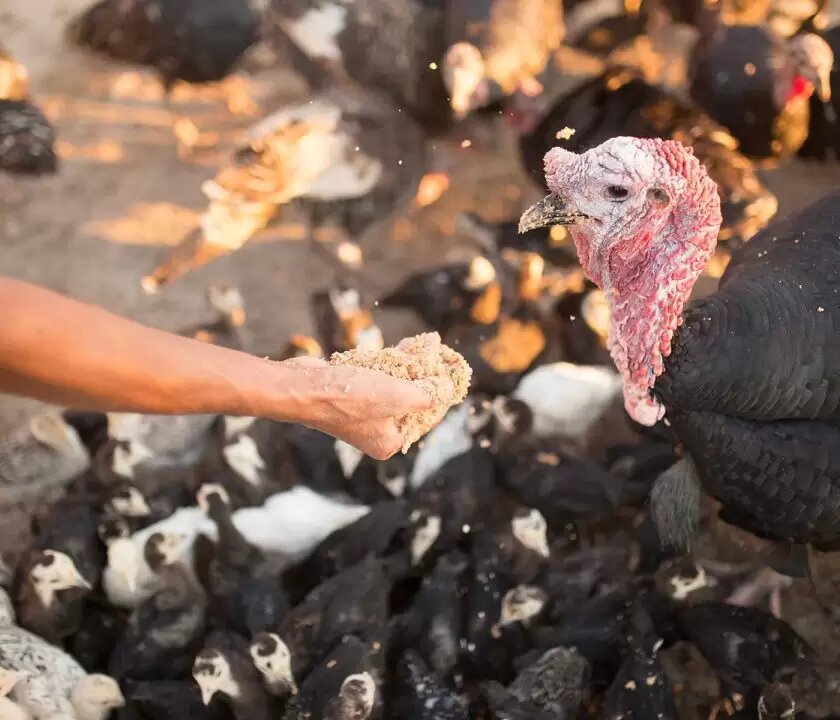 Feeding your turkeys with organic feed is a more sustainable and healthier option compared to other conventional alternatives.
Additionally, it is crucial to adjust their feeding according to each stage.
Turkeys are poultry that require high-quality feed with a high protein and vitamin content, ensuring a balanced diet and the necessary calorie intake during each growth phase. It is also important to provide them with access to clean and fresh water at all times.
Why choose organic feed for turkeys?
Adapting the feeding of your turkeys to their needs and characteristics is essential, so it is advisable to provide them with specific feed instead of other alternatives for chickens or hens.
Including organic feed in their daily diet ensures a nutrition based on organic ingredients that have been cultivated without the use of pesticides, herbicides, or synthetic fertilizers. Moreover, these feeds do not contain genetically modified organisms or artificial additives.
By choosing organic feed, you support sustainable agricultural practices and help reduce the carbon footprint of your farm or garden. Additionally, with organic feed, you provide a healthier and more nutritious diet, which can result in healthier and happier animals.
If you want to provide some fresh and unprocessed food in addition to the feed, you can also include herbs, vegetables, and fresh fruits, which are an excellent source of vitamins, minerals, and antioxidants.
Feeding adapted to each stage.
It is crucial to meet the different nutritional requirements that turkeys need during each stage of their life.
During the first weeks, they require a diet with a high protein and energy content for proper growth and development.
Once they reach adulthood, turkeys need to consume food with a high percentage of fat and a balanced diet that includes proteins, carbohydrates, fats, vitamins, and minerals. During this stage, it is important to monitor their weight and calorie intake because although the goal is fattening, it is not advisable for them to be overweight. Ideally, males should not exceed 10 kilograms, and females should not exceed 5 kilograms.
Do you want to feed your turkeys with organic feed? At Bifeedoo, we manufacture specific feed for them. Contact us for more information.