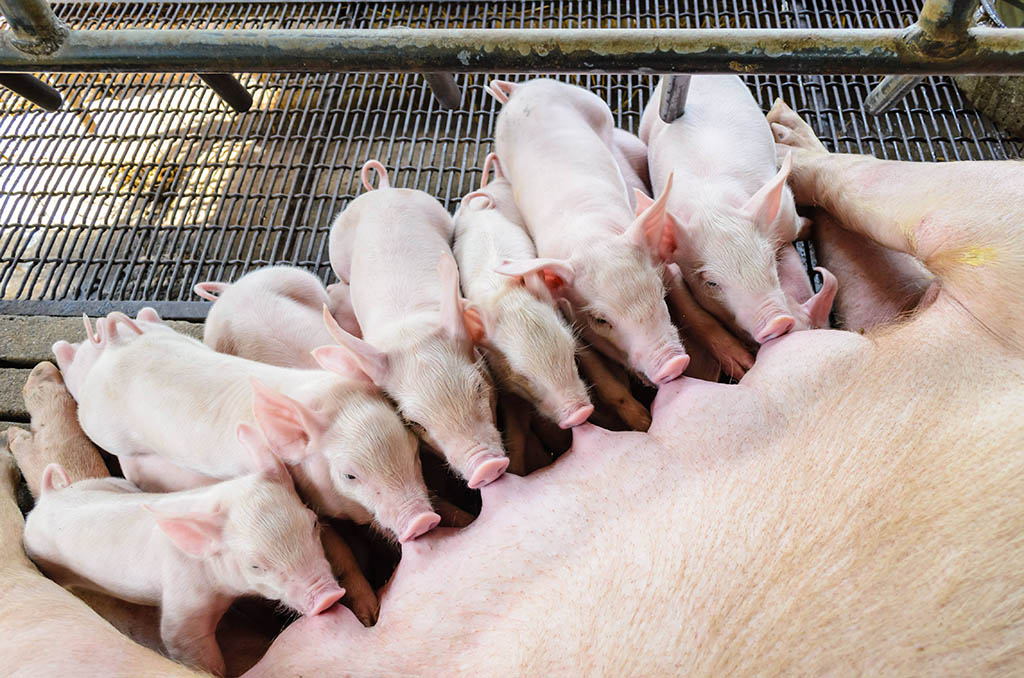 Do you want to ensure the best welfare for your cattle during their gestation stage? We tell you what basic care cannot be missing and why our organic feed for pregnant sows is the best alternative for their nutrition. Keep reading.
Essential care for pregnant sows.  

•

 Organic, healthy and balanced diet.

 

The food must be of high quality and adapted to the needs of the sow at each stage of its production cycle.

 

Sows need a diet rich in fiber to ensure their good health, provide the necessary nutrition to the growing fetuses in their uterus and prevent them from becoming overweight.

 

Therefore, providing organic and natural feed is the best alternative for their diet.

 

In addition, the use of sustainable and local feed reduces the environmental impact of transport. 

 

• 

Accommodation.

 

Pregnant sows should be housed in groups, in a clean, dry and well-ventilated place.

 

A place where they have enough space to move and rest comfortably and ensure they have access to clean, fresh water at all times.

 

 

• Weight control.

 

It is important to monitor the weight and body condition of gestating sows to ensure that they are receiving the proper amount of feed and to prevent health problems such as overweight or malnutrition.

 

This point is key because if we have overweight sows they will have many problems during farrowing and when it comes to producing the milk needed to feed their piglets.

  

• Control of diseases and parasites.

 

Pregnant sows must be regularly vaccinated and treated to prevent and control diseases and parasites.

 

It is also important to maintain a proper hygiene program to reduce the risk of infections.

  

• Management and stress.

 

Proper management of pregnant sows can reduce stress and improve their well-being.

 

It is important to minimize movement and stress during gestation and provide a quiet and calm environment for the sow as otherwise they may miscarry.

 

 
Advantages organic feed for pregnant sows.


At Bifeedoo, we manufacture an exclusive organic feed for pregnant sows.
We care about the health and well-being of animals and we know that, at each stage of their lives, they need a specific diet.
These are the advantages of our organic feed for gestating sows:
• Experience.

We have been manufacturing animal feed for more than 30 years and we apply the best processes in the manufacture of our products in order to obtain quality and natural feed.
• Professional team.
We have a human and technological team specialized in the manufacture of feed.
We have technologies such as the NIR system to guarantee and verify the highest quality and appropriate composition of our feed in each manufacturing batch.
In addition, our team of veterinary nutritionists are in charge of adapting all the formulas to the needs and requirements of our clients.
• Facilities.
We have 2 independent factories, located at a distance of 5km.
Thus, we make sure to avoid any type of cross contamination in the raw material or organic feed with the conventional one.
• Quality raw materials.
We do not use by-products.
Our feeds are made from cereals, soybeans, peas, sunflower seeds and soybean oil.
In this way, we guarantee the necessary supply of nutrients and a good digestibility of our feed.
• Local cereal.
We bet on local and nearby raw materials to contribute to reducing the carbon footprint of our feed.
Are you looking for the best feed to feed your pregnant pigs?
Our organic feed is the best option as it ensures the supply of nutrients and vitamins they need.
Think bio!