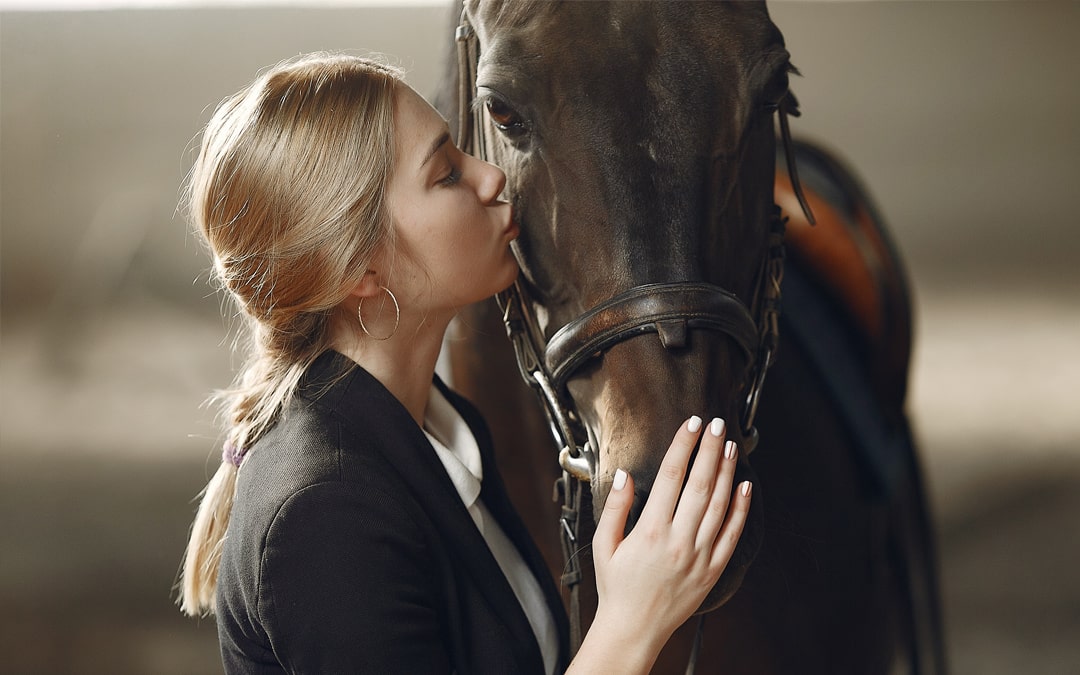 The relationship between the horse and the feed is complicated, since even though the feed is necessary to correctly feed the stabled animal, it must be taken into account that if it is of poor quality or poor handling (excessive quantity, sudden changes…) can trigger colic and pitting that in too many cases end with the death of the horse. For this it is essential to have a quality feed such as our Organic Feed for Horses.
We know that the horse's natural diet is fresh grass, an animal with low-moderate activity needs to eat about 8 – 10 kg of dry matter/day. If we count that grass contains about 80-90% water, we can count that a single horse needs to eat between 70-100 kg of grass daily. Now, when the horse is stabled in a box or in a fence, it is necessary to provide another type of food, since it is not feasible to provide it with that large amount of fresh grass.
According to our veterinary experts, we can say that the horse's diet should be based on quality hay, mainly grass hay (for example, fescue or ray). -grass) or prairie. If the equine is for recreation, with low to moderate physical activity (walks at the weekend and a little rope during the week), we do not recommend alfalfa hay because It provides nutrients that the horse does not need and can cause health problems. On the other hand, this one does. which is a good forage for sport horses with a high workload. Be that as it may, the horse should never be fed straw as it is not capable of digesting it and predisposes it to intestinal impactions (extreme constipation) and colic. You should use the straw only for bedding and have other forage available for your animal to eat. You must offer the forage freely, so that the horse has the opportunity to eat as much as it wants.
Our recommendation is that the feed is a supplement to the forage and is always offered rationed. For sport horses, the feed provides the extra nutrients that they need due to the high workload, depending on the workload of the animal, it will be adjusted. the daily feed ration. For recreational horses, you can offer a small amount of feed daily (between 300 and 500 g, depending on the type of forage provided, the horse's weight and physical activity) so that it is healthy. accustomed to eating it. In this way, in seasons when you may need it (due to an increase in physical activity, the need to administer medications, convalescence from illness in which you need to gain weight…) you can safely increase the amount. For this, a quality feed, with natural raw materials and without by-products, has better digestibility and ends up being a health insurance for our horse. Our organic horse feed complies with these characteristics and, in addition, the raw materials we use in manufacturing are certified as coming from organic farming, with which it is guaranteed. It is free of genetically modified organisms (GMO) and its cultivation does not use pesticides or chemically synthesized fertilizers. As you know, our factory located in Híjar (Teruel), is We are in a cereal-producing area, and we prioritize the purchase of km 0 cereal, with which we offer high-quality feed and, being ecological, more respectful of the environment.
You should also take into account avoiding sudden changes in food. When changing the batch of hay, type of feed or even batch of feed, you must mix for 4 – 5 days the old food with the new, and gradually include a greater proportion of the new and lowering the proportion of the old.
We also want to talk to you about water. You must have drinking water, fresh, clean and in sufficient quantity since a horse needs to drink between 7-8% of its body weight per day (40 - 50 liters) and more in summer.
If you take these recommendations into account, your horse will enjoy riding. You will maintain good digestive health and you will avoid unpleasant shocks in the form of colic, congestion and other problems.