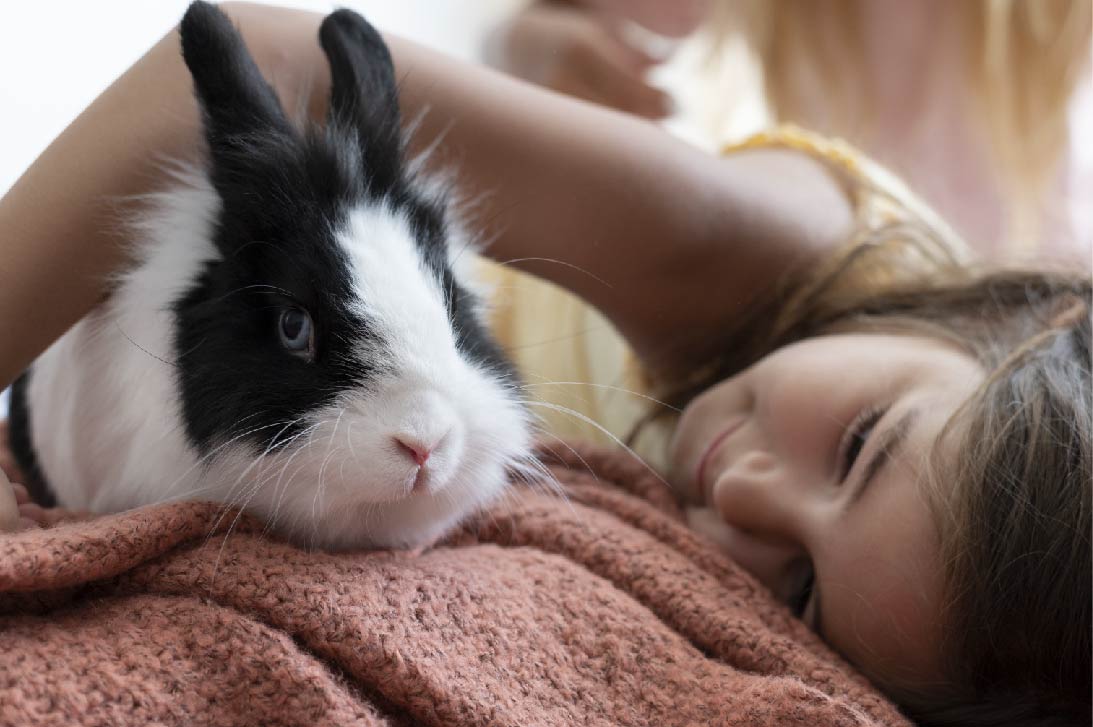 Rabbits are adorable and perfect pets for children and small homes, but they require a series of specific care in their diet, stay and health. These are all the details that you should take into account to care for your pet:


1. A conditioned space.
Rabbits need a large, comfortable space to move, explore, and play. You can choose between a cage equipped with a drinker and feeder, if possible, adjustable, or a closed box like a burrow, with a top lid that allows the animal to be visible at all times.
If you prefer your pet to live freely in a room, make sure that the space is adapted and free of dangers such as plugs or cables.
2. Adequate amount of food.
Most pet rabbits are sterilized and sometimes excessive feeding can cause overweight problems. Therefore, it is very important to ration food to provide the right amount of food. Feeders with dispenser and adjustable drinkers are the perfect option to measure these amounts.
3. A balanced diet.
Pet rabbits are considered exotic animals, so their diet is special and different from that of other rabbit breeds intended for human growth and feeding.
Your domestic rabbit's diet should be rich in hay, vegetables, feed and fresh water. Hay, forage or dry grass should represent 70-80% of your diet as it provides fiber, essential for good digestive health.
To provide vitamins and minerals to their diet, include quality feed, preferably organic (10%) and green vegetables (10-20%).
As treats or prizes, you can give carrots or peppers and avoid giving sweets and dairy products.

4. Keep your space clean.
Ensure that your pet has a clean, dry habitat in which it can move freely. Include a small towel or cotton cloth in its cage or burrow so it can rest comfortably at night and change it at least once a week.
5. Provides stimulation and entertainment.
They are highly intelligent animals and need continuous mental stimulation to be happy and healthy. Toys or activities like tunnels and balls will help him stay active. In addition, to satisfy its need to gnaw, it is very useful to introduce untreated wood into its cage or pen, for example, from fruit trees such as orange or apple trees.

6. Vaccines, up to date.
It is important that visits to the vet are regular to check their health and have all the necessary vaccinations. Specifically, there are two fundamental vaccines that cannot be passed: myxomatosis and hemorrhagic disease. They are highly contagious diseases with a high mortality rate.
Also take care of your dental health to prevent problems with your gums and teeth.

7. Lots of care and attention.
Rabbits are social animals and very affectionate. They need daily interaction and contact. Spend time with your pet, cuddle and play with it to keep it happy and active.
So far everything you need to know to care for your pet rabbit. Remember to give him a lot of love and pay special attention to his diet. Our organic feed made with selected seeds is the best option as it ensures the fiber and vitamin intake you need. Think bio!